Details of the recent restructuring announcement
Comment on the erroneous newspaper report that Acorn is dropping RISC OS and RISC processors - from Corporate Affairs Manager Kevin Coleman


Statement on the availability of Risc PC486 sound driver software
The member companies of the Acorn Computer Group plc are those depicted on the signpost below.
Acorn Computer Group is part of Olivetti Telemedia. Follow the links to find out more.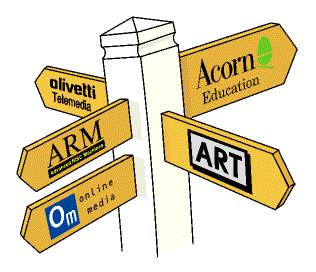 Acorn Education | Applied Risc Technologies
Online Media | ARM Ltd | Olivetti Telemedia
Please note: the Acorn home page contains a 60k image map.
You should turn off image loading in your browser if you do not wish to load it.
---
A brief introduction to the Acorn Computer Group companies.


Comments on these pages are welcome and can be made by using the


Comment facility or by emailing: webmaster@acorn.co.uk
---